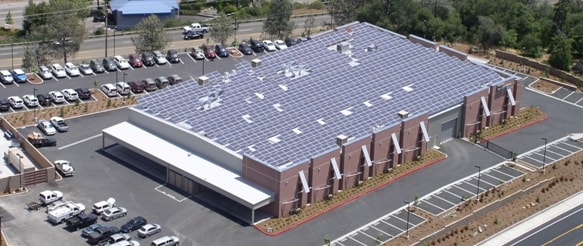 Feel good about where you do business!
Magnussen's Auburn Toyota is always seeking ways to keep our planet protected. We provide our customers with the highest quality product and experience while maintaining our commitment to protecting the earth's resources.
Solar
Magnussen's Auburn Toyota is a solar producer. All the buildings on the property are outfitted with solar panels. The solar capacity is 400 kilowatts, enough to cover approximately 70% of the annual energy use. The decision to use solar energy not only cuts down on energy costs, but is good for the local environment and economy. On days when the sun's energy is greater than consumption, Auburn Toyota puts energy into the local power grid, helping meet the demands of Auburn.
Water
We know that water is precious resource. The Auburn Collision Center at Magnussen's Auburn Toyota is a water recycler, and contaminants from the water used in the facility are removed before water is released into the sewer system. This earth-friendly practice ensures that the water flowing into our rivers and streams is clean.
Earth Friendly Products
Parts, service and the body shop want the customer to have earth-friendly choices when it comes to buying products and choosing services. Our Parts Department is now offering a line of environmentally products for use in and on your car. The Collision Center at Auburn Toyota uses a waterborne clear paint product, which is cleaner and is known to reduce air pollution.
Recycled parts
Auburn Toyota knows that non-renewable resources are precious. That's why steel, plastic, aluminum, tires and cardboard are separated and recycled.
Green Vehicles
Auburn Toyota does its part by offering vehicles that reduce environmental destruction. The Toyota Prius. Camry Hybrid and Yaris rank in the top ten overall greenest vehicles according to Yahoo! Autos "Green Rating," a scale of 1 to 100 which evaluates vehicles based on emission of greenhouse gases, fuel consumption, tailpipe smog emission, and factory pollution from manufacturing. Auburn Toyota is proud to offer all three of these vehicles, especially the newly launched 2010 Prius, which features controllable driving modes and higher fuel efficiency. Magnussen's Auburn Toyota also offers the Highlander Hybrid.
If you have any questions or comments about our commitment to be green, please email us using the form below.