Magnussen's Auburn Toyota awarded Toyota President's Award for 2011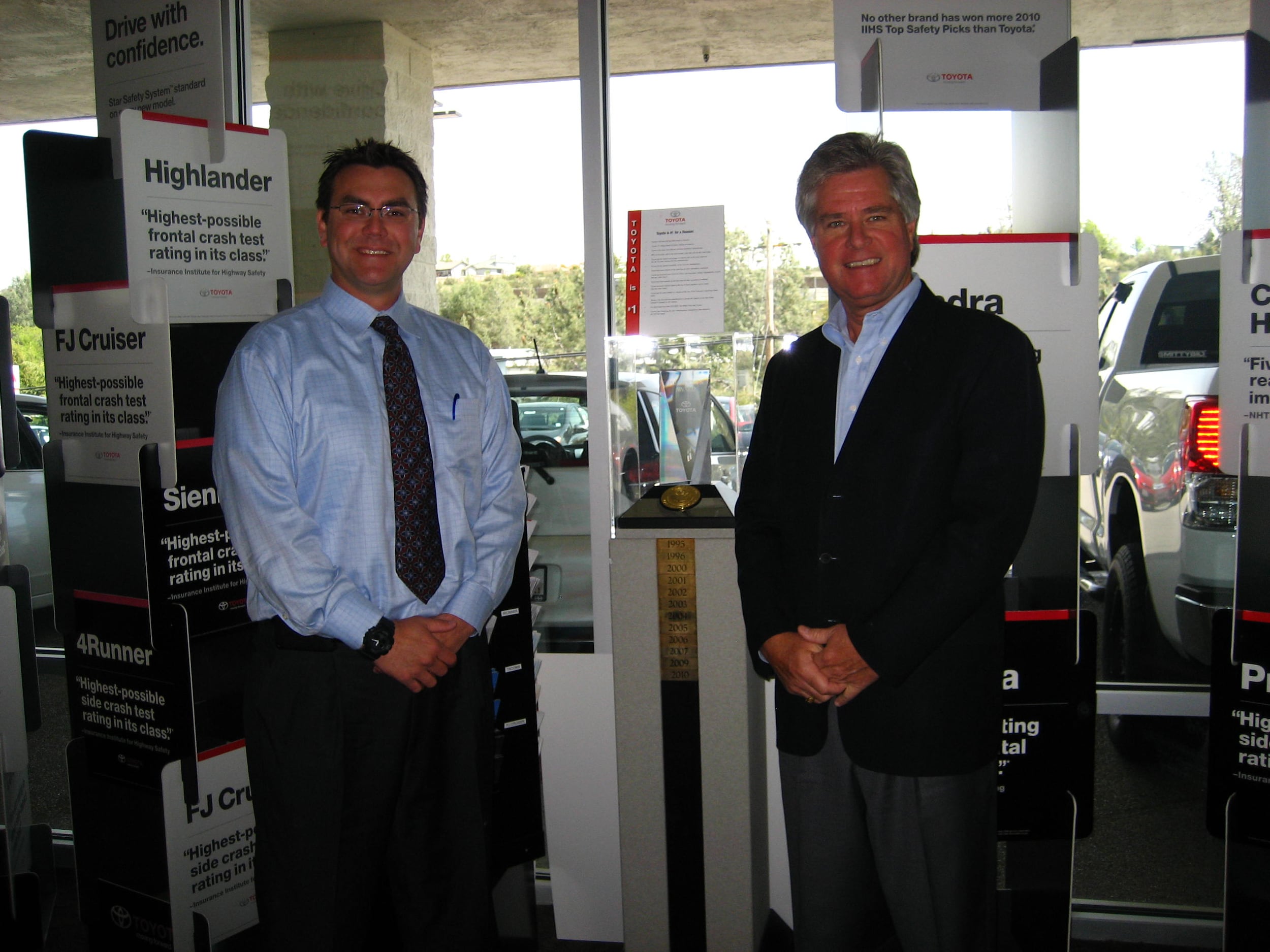 Michael Steinhilber (District Sales Manager) congratulates Tony Toohey (VP/GM) on winning the 2011 Toyota President's Award.

From Toyota.com "Each year, Toyota Motor Sales recognizes its stellar dealerships with the prestigious President's Award. It's a very high honor a dealership can receive from Toyota, and is only awarded to those dealerships who have demonstrated a commitment to maintaining Toyota's high standards for customer satisfaction.
One of Toyota's primary goals is to emphasize the entire ownership experience. We want to help ensure that our customers are satisfied not only at the time of purchase, but as long as they own their vehicle. Offering top quality cars and trucks is, of course, the first step - but only the beginning. Toyota dealerships strive to match the quality of our products with the finest service in the industry. In order to qualify as a President's Award winner, dealerships must excel in each of a series of categories, including Customer Sales Satisfaction and Customer Service Satisfaction."

Meet our Employee of the Quarter: Harlan Gust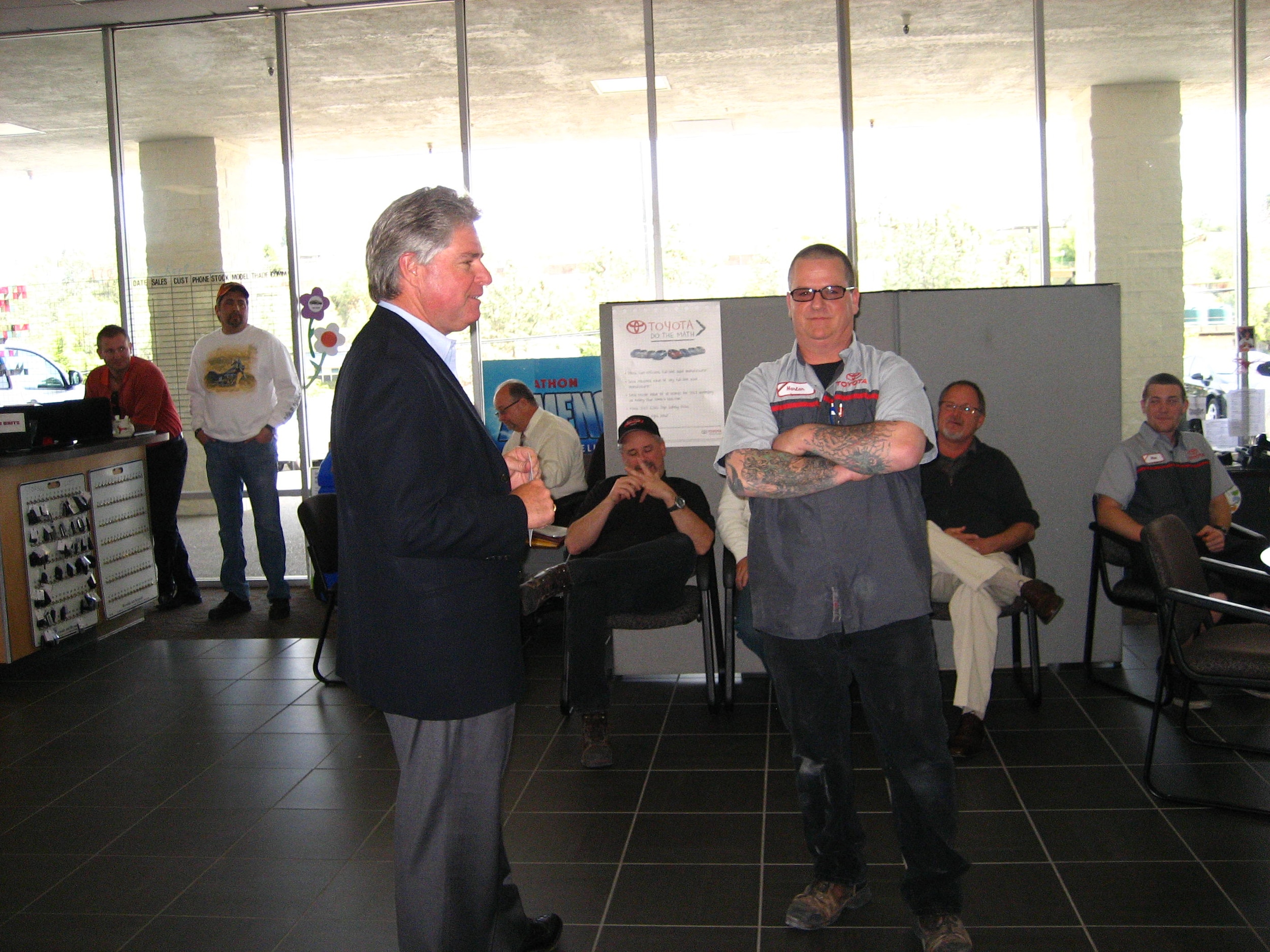 Harlan Gust has worked at Auburn Toyota for 11 years in our Collision Center. He was chosen by his peers to be Employee of the Quarter! Congratulations Harlan!


Past Employee of the Quarter: Denny Smith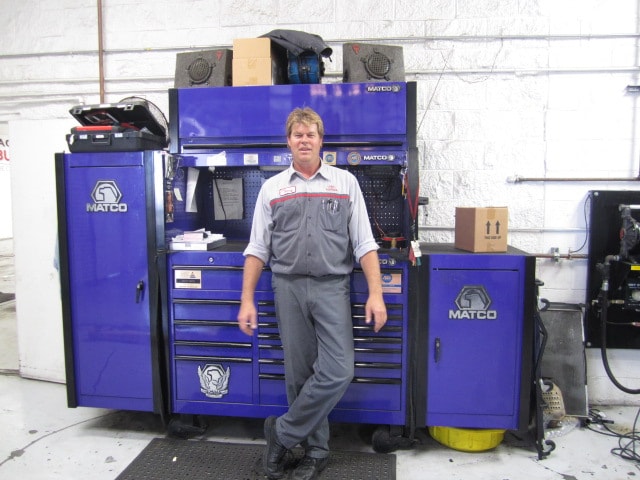 Denny Smith standing next to his tool box.


Like the Toyotas he works on, Denny Smith is dependable year in and year out. For 18 years the service department at Magnussen's Auburn Toyota has been relying on Denny for his expertise in automotive repair and extensive knowledge. Denny started here as a line technician and today is a shop foreman and directs used car reconditioning. As shop foreman he is responsible for quality control, managing the technicians, working on complex jobs and interacting with customers.
"Denny is dedicated and hard-working," says Lee Rafferty, Service Manager. "He is the nuts and bolts of somebody you want as an employee."
Denny Smith is a lifelong local; he attended Alta Vista Elementary School, EV Cain and Placer High School before finishing high school in South Lake Tahoe. When Denny returned home, he spent three years in the automotive program at Sierra College. He took every course they offered. Denny received four certifications before going to work at a GM dealership in Placerville. When he was 21 Denny had his own shop in Coloma where he worked primarily on the seasonal vehicles used to tow rafts and passengers up and down the river roads.
Eventually Denny ended up at Auburn Toyota because of the quality of the make. "The customers love their vehicles so much and they trust in them," he said. "And I do, too."
In his 18 years Denny has experienced a lot at Auburn Toyota. One of Denny's favorite memories was celebrating his 40th birthday here at Auburn Toyota. Employees decked him out in all the "Over the Hill" gear they could find. The other employees are one of the reasons Denny has been here so long "Good people work here," he said. "I like the area, I grew up in the area and I know the people."
In his free time you will find Denny playing golf, boating, or working on his own cars. His first car was a brown, 1970 Firebird which he turned it into a hot rod. One of his favorite cars was a 1968 Camaro which he made into a "13 second car" (it could go 1/4 mile in 13 seconds) which he built while attending Sierra College. When he got married he had a 1969 convertible Firebird that he fixed up. It was red with white interior. When his wife was pregnant she made him sell the car to buy her a new car.
Today you will likely find Denny working on vehicles with his sons. They build rock crawlers for Rubicon. Denny says that Toyotas are the best for this, "They work better." Currently they are working on an '88 4Runner.
Denny has been married to his wife for 23 years and they have two sons and daughter who he describes as "really good kids." He has been living in Cool for 30 years.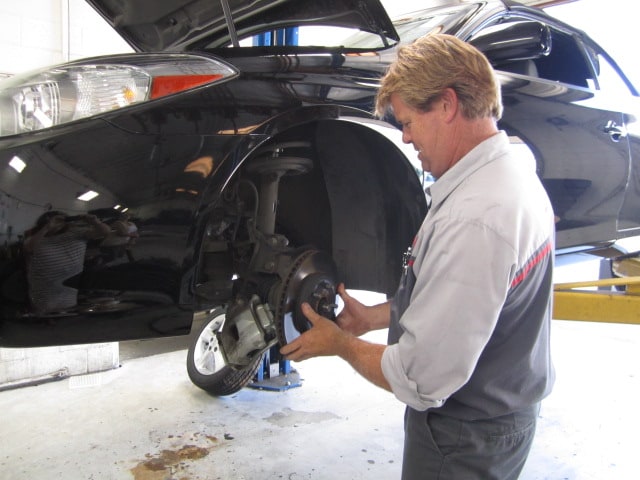 Denny works on a used car.